Classmates of a 17-year-old Pakistani student from the persecuted Christian minority beat him to death last month in Punjab's Vehari district allegedly for drinking water from the same glass as his upper-class Muslim classmates, community members and rights activists have said, in a story that Pakistan's mainstream media is so far completely silent about.
The British Pakistani Christians Association (BPCA) reported that the killing occurred on August 27, just four days after Sahroon Masih, a poor but promising student, had joined MC Model Boys Government High School Burewala.
Masih was the only Christian in his majority-Muslim class and was reportedly bullied and abused by his Muslim classmates who refused to let him sit next to them and called him derogatory names like "chura". On his first day of class, one of his teachers also called him names and threw him out of the class for not wearing a proper uniform.
Sharoon's mother told BPCA that he had cried for three nights before his death, anguished over the daily bullying he had to suffer at school.
According to BPCA, the teacher overseeing the classroom ignored students as they began to beat up Sharoon on August 27, the third day after high school classes began. One teacher said "he was reading a newspaper and did not notice the attack." Later the head teacher at the school said the attack occurred between classroom sessions and a supervising teacher arrived late.
On Tuesday, activist Mohammad Jibran Nasir posted on his Facebook page that he had spoken to Sharoon's parents who had confirmed the killing and revealed that one of Sharoon's killers had been arrested while another two, the sons of influential landlords, were being protected by authorities. Nasir said Sharoon's classmates started beating up the ill-fated boy after he drank water from the same cup as some upper-class classmates. He also said some students tried to get the attention of teachers but they paid no heed. According to Nasir, the incident was a combination of religious and class hatred.
This is the second time a student has been beaten to death by his own class mates within the walls of an educational institution. In April, a mob beat 23-year-old Pakistani student Mashal Khan to death at his university campus in the northwestern city of Mardan after he was accused of sharing blasphemous content on social media.
A group of about 10 students shouted "Allahu Akbar" during the attack on Mashal Khan, who was stripped naked and beaten with planks until his skull caved in as other students looked on, video obtained by Reuters showed.
Blasphemy is a highly sensitive topic in Muslim-majority Pakistan, where insulting the Prophet Mohammed is a capital crime that has seen dozens languishing on death row and where even a mere accusation can lead to violence.
A rare uproar was sparked in Pakistan over blasphemy killings after the gruesome video of Mashal Khan's lynching was spread all over the internet and local TV channels. In Sharoon's case, however, mainstream media has not picked up the story yet, possibly because fatigue has set in about minority killings, or because there is just something better to cover such as the latest happenings in the life of boxer Amir Khan and his (ex?)wife Faryal.
Meanwhile Asia Bibi, a poor farm worker and mother of four, became the first woman to be sentenced to death under Pakistan's controversial blasphemy law in 2010. She is still languishing in jail. A popular governor, Salman Taseer, who tried to lobby for a presidential pardon for her was shot to death by his own bodyguard in 2011.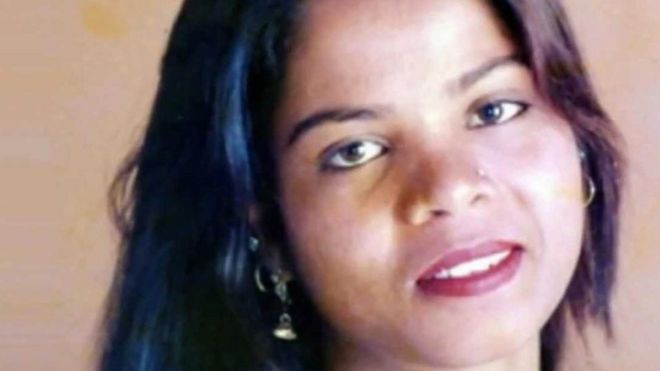 Many details of Sharoon's killing remain murky but this is a call to mainstream newspapers and TV channels to investigate his death and bring it to the attention of higher authorities.
Wilson Chowdhry, the chairman of BPCA, said: 'Sharoon was a bright and intelligent young boy who had a potentially good future [and] has now been killed. Yet once again in Pakistan the debate is not on who is culpable but who is not culpable of a most heinous crime.'
Let's start talking about Sharoon's death. And let's make sure it is the last.
Related articles across the web