If you've been in Pakistan for the past week or so, you would have undoubtedly known that Prince Mohammed bin Salman (MBS) was visiting Prime Minister Imran Khan. MBS was set to visit several countries in Asia, but started with Pakistan before making his way to India; the idea is that Saudi needs to diversify it's investments, starting with tourism.
The streets were littered with banners promoting the Crown Prince's visit to Pakistan, ensuring that the public and MBS both knew how eager Pakistan was for his arrival.

During his visit, MBS announced $20 billion in investments in Pakistan along with aid to further grow the economy of the country. There's no doubt that Pakistan needs these funds, with the Pakistani Rupee dropping further than it has in years and the Central Banks reserves 40% lower than they were the previous year. Along with this, the foreign exchange reserves that were used to purchase fuel imports have dropped to less than $8 billion as well, leaving Islamabad in dire need of funds.
With all these issues, the US also announced a $300 million dollar cut in aid from the US due to the perceived failure to tackle militant groups in the country, leaving Pakistan in dire straights.
Saudi Arabia, saw this as an opportunity to expand its sphere of influence further in Pakistan after it's last loan of $1.5 billion when the Pakistani rupee crashed in 2014.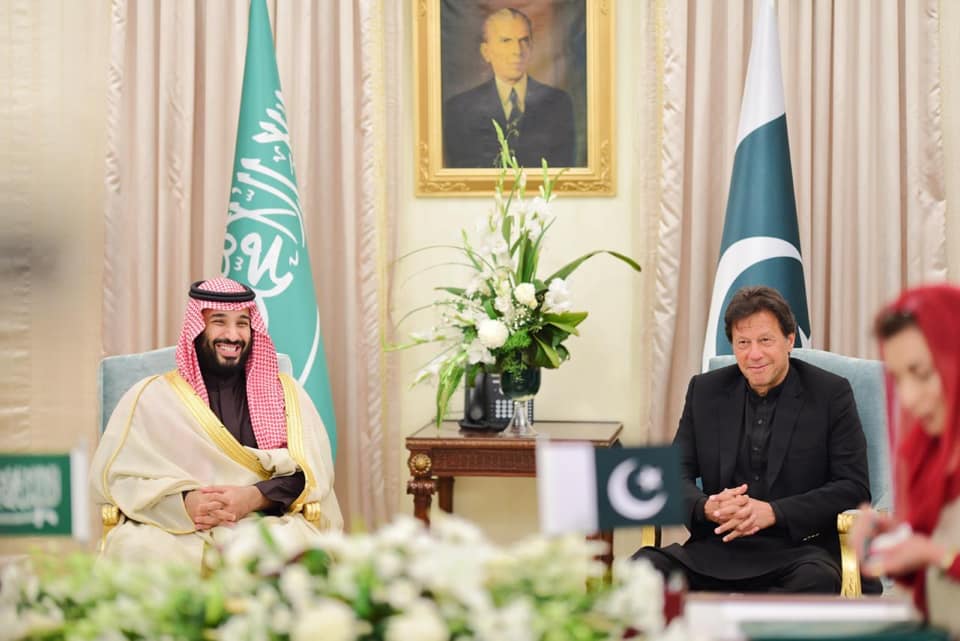 Investment, aid or any financial bailout doesn't come without strings attached, which is a lesson Pakistan has learned time and time again from the US.
With the US no longer able to influence Pakistan as it did previously, MBS has made a strategic move to have more control in the region, starting with Pakistan. However, with this Pakistan continues to be dependent on a foreign entity for aid and therefore, is susceptible to whatever political ploys MBS may have in store. Furthermore it seems that Pakistan has had a temporary lapse in judgement around the blatant lack of human dignity that MBS has shown since his reign as Crown Prince, the most recent being the murder of Jamal Khashoggi in a Saudi Embassy.

The now infamous murder of Khashoggi, is only the tip of iceberg of what MBS has accomplished in his short reign so far. The ongoing war in Yemen also seems to have caused no concern to Khan even though it has claimed the lives of 10,000 so far. There has been an outcry of concern around this from human rights organizations to governments around the world advocating for peace, yet no response from MBS aside from denying any such allegations even though they have been meticulously documented.
MBS has been actively detaining women rights activists whilst removing the ban on women to drive in the country.
With moves like this, one has to question if any goodwill gestures that he has done are for uplifting and defending the rights of the marginalized or to propel an image of a benevolent and progressive Saudi to suit his ultimate plans for the country and its project of expanding its sphere of influence.

It seems as if MBS has taken to the exact same route that the US used to expand its dominance globally, with manipulative plays to capture global hearts and minds while propagating violence for control and categorically denying all charges. US has done exactly the same with the wars and sanctions in Venezuela, which have been documented as human rights abuses yet when confronted with the fact, the US denies all allegations and often pivots to what they've done elsewhere in the world to promote human rights. An example even closer to home is that of Afghanistan, where the US was implicated in numerous human rights abuses, yet only a handful got coverage and even less made it to a court of law.

Even now in the era of Naya Pakistan it seems the state still engages in getting aid from those that propagate human rights abuses, the only difference is that the charitable hand has changed.
If this is Naya Pakistan, where human rights are championed, women's rights are supposed to progress and the age of unnecessary deaths from wars are supposed to be eliminated, then why is Pakistan accepting and celebrating aid from a country that does the exact opposite of what the new government stands for? Pakistan seems to be pushing forward in many ways internally with reforms in the country, yet when it comes to it's international relations it seems that's where Naya Pakistan stops and the status quo continues.

One thing is certain, without true economic independence, Pakistan- Naya or not, remains in the same situation as it's been in for the better part of the last two decades, in someone else's pocket except this time there are no blueprints available for what MBS has in store for the nation and what strings may be attached.