Editorial: Starting the week with a look back at the Murree tragedy
As the first week of 2022 came to an end, Pakistan witnessed an unfortunate tragedy in which atleast 22 people, including 10 children, lost their lives on way to Murree for a weekend getaway when their cars became trapped due to heavy snowfall. What makes the incident even more tragic is that it could have been avoided had the authorities acted in time.
The whole of last week saw heavy rainfall in the twin cities of Rawalpindi and Islamabad and intermittent snowfall in Murree and nearby hill stations. Had regulatory authorities placed restrictions and issued stronger travel warnings, the number of tourists entering Murree could have been limited prior to weather conditions escalating. 155,000 vehicles entered the hill station during the week while Murree only has a car capacity of 3,500 to 4,000; restrictions on vehicles entering the hill station were placed late on Friday.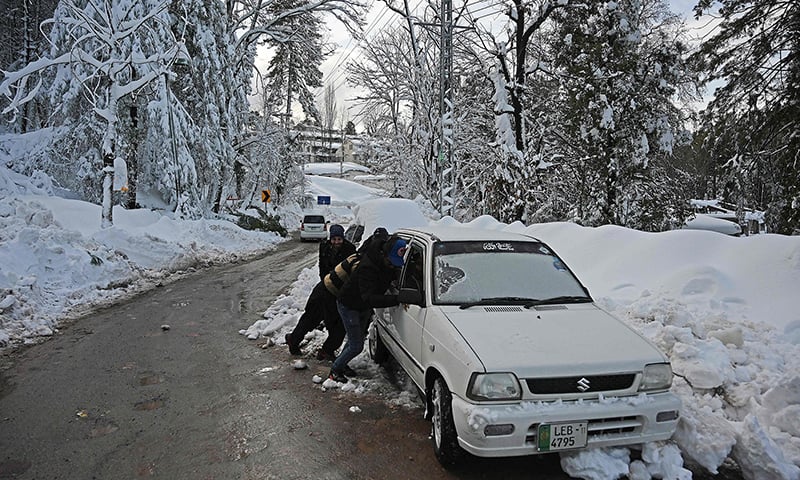 On Wednesday, Jan 5, the Met Office had issued a travel advisory stating, "All authorities concerned are particularly advised to remain 'alert' during the forecast period." Despite the alert going out to a number of government departments, no emergency meeting was called to access ground realities in Murree. A senior official of the Punjab government stated, "There was a possibility that the NDMA did not anticipate the disaster in Murree."
More than 4 feet of snow fell in Murree on Friday night and early Saturday morning, with temperatures plummeting to minus 8 degrees Celsius. The heavy snowfall led to cars being stranded on the highway for over 30 hours, with many of the passengers running out of water, food and fuel. The heavy equipment brought in also initially got stuck due to the severe snow, delaying rescue operations. Reports suggest the deaths occurred due to hypothermia and asphyxiation due to inhalation of carbon monoxide after the cars were snowed in.
The government's delayed response was only compounded by the remarks made by Prime Minister Imran Khan and Punjab Chief Minister Usman Buzdar which seemingly blamed the tourists for rushing to the hill station. While the Prime Minister ordered an inquiry into the incident, he also tweeted, "Unprecedented snowfall and rush of people proceeding without checking weather conditions caught district admin unprepared," which seems like scapegoating at best and gross negligence at worst. While addressing a presser in Islamabad on Saturday, Buzdar commented that while the government was encouraging tourism, it did not mean hundreds of thousands of people could converge at one point in less than 24 hours.
The tragic deaths on Murree's roads follow a year of Pakistan battling Covid-19, dengue and more. If it has made one thing apparent, it is that the country is far from being at a point where banking on tourism can be considered a realistic possibility. Perhaps it would be better to take a second look at how governmental departments operate, especially when it comes to disaster relief, before showing Pakistanis another dream of Naya Pakistan which may never materialise.